Immigration Appeals Lawyer Brampton
Matthew Jeffery is pleased to offer his expert Canadian immigration legal services to immigrants and Permanent Residents living in the Brampton region of Southern Ontario.
As the third-largest city in the Greater Toronto Area, Brampton is home to over 523 000 residents, both locally and internationally born. As one of the youngest communities in the area, Brampton has a vibrant, up-and-coming culture that is proud of its diversity and multiculturalism.
A popular location for many businesses, factories, warehouses, and corporate head offices, the city is a popular destination for those seeking new employment in an ever-expanding, increasingly gentrified community. Some of the largest employers in the region include Loblaws, Chrysler Canada, Maple Lodge Farms, and Rogers Communications Inc. The most dominant economic sectors of the area are retail administration/logistics, food and beverage, advanced manufacturing, life science, information and communication technologies, and business services.
Sheridan College also makes its home in the city of Brampton, offering immigrants and citizens alike a great opportunity to improve their skills and gain worthwhile post-secondary education. With great schools, all the amenities you could hope for, and easy access to the diverse offerings of the city of Toronto, Brampton is well poised to continue its upward momentum.
Whether you are looking for information on Business Immigration, Student work visas, or study visas, or any other type of immigration matter, you will find all the assistance and support you need at the Law Office of Matthew Jeffery, Canadian Immigration Lawyer. For more information about any one of our services, please contact us today in office or by phone at 866-886-8014.
Directions to our office:
1240 Bay Street, Suite 810
Toronto , Ontario
M5R 2A7 Canada
Travel southeast on West St
Turn left onto Nelson St W
Turn right onto Main St N
Continue onto Hurontario St
Use the ramp to merge onto ON-401 E towards Toronto
Keep left at the fork, following signs for Route 4 / Dixie Road
Stay left, following signs for Ontario 427 / Renforth Dr / Airport
Keep right at the fork, following signs for Ontario 427 / Renforth Dr
Keep left following signs for Ontario 427 S
Merge onto Ontario 427 S
Exit left to the Gardiner Expressway E toward Toronto
Merge onto the Gardiner Expressway E
Exit at Bay St / York St toward Yonge St
Keep right at the fork, following signs for York St N
Merge onto York St
Take a slight left at University Ave
Continue along University Ave to Queens Park Crescent E
Continue straight onto Queens Park
Turn right onto Bloor St W
Turn left onto Bellair St
Take the second right onto Cumberland St
Our office will be on the right
Public parking available nearby:
Municipal Parking – Cumberland Yorkville Garage
37 Yorkville Ave
Toronto, ON M4W 2G8
Municipal Parking:
74 Yorkville Ave
Toronto, ON M5R 1B9
City Parking:
Cumberland Street
Toronto, ON M5R 1A8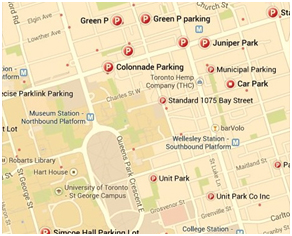 Back