Immigration Appeals Lawyer Etobicoke
With a diverse and multicultural population of over 347 000 people including many immigrants from all corners of the globe, Etobicoke can enjoy easy access to the expert services and advice of Matthew Jeffery, Canadian Immigration Lawyer. With many years of experience and a strong history of successful cases, he is well recognized as one of the best immigration lawyers in the Greater Toronto Area.
Primarily a suburban area, the city of Etobicoke has a much lower population density than the Toronto core with busy main streets and large expanses of industrialized land along the many expressways that cross through the region. Thanks to access to several major roadways including the Gardiner Expressway, the Queen Elizabeth Way, and Ontario Highways 427, 401, and 409, Etobicoke is perfectly situated to get the most out of the Greater Toronto Area.
The city of Etobicoke is divided into three regions known as the Lakeshore, the region along the north shore of Lake Ontario, Central Etobicoke which is the oldest area and runs along Dundas Street and Rexdale, which occupies the area along Albion Road and Rexdale Boulevard. A recent surge in development has also seen the creation of condominiums along Bloor Street and the waterfront near Humber Bay.
For landed immigrants seeking Permanent Resident Cards or permanent residents interested in Family Sponsorship, or any other immigration services, the Law Office of Matthew Jeffery is just a short drive away! For more information on all of our services including Provincial Programs and Citizenship, or to make an appointment, please contact our office by telephone at 866-886-8014.
Driving directions to our office:
1240 Bay Street, Suite 810
Toronto , Ontario
M5R 2A7 Canada
Heading southeast on Islington Ave
Take the ramp onto the Gardiner Expressway E
Keep left at the fork to merge onto Gardiner Expressway E
Exit at Bay St / York St toward Yonge St
Keep right at the fork, following signs to merge onto York St N
Turn left onto Pearl St
Take the first right onto University Ave
Continue onto Queens Park Crescent E
Continue straight onto Queens Park
Continue onto Avenue Road
Turn right onto Cumberland St
Our office will be on the right
Public parking available nearby:
Municipal Parking:
Cumberland Yorkville Garage
37 Yorkville Ave
Toronto, ON M4W 2G8
Municipal Parking:
74 Yorkville Ave
Toronto, ON M5R 1B9
City Parking:
Cumberland Street
Toronto, ON M5R 1A8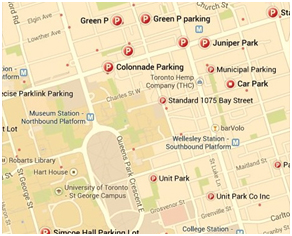 Back