Immigration Appeals Lawyer Markham
Located in the York Region of Southern Ontario, Markham is well-situated to allow its many immigrants swift and easy access to the office of highly successful Canadian Immigration Lawyer, Matthew Jeffery.
Markham boasts a unique blend of many small communities each with their own unique characteristics, including Thornhill and Unionville, both commonly recognized as their own, insular communities.
Predominantly English-speaking, the population of Markham is nonetheless made up of over 72% visible minorities, with over 57% of them non-native English speakers. Languages common to Markham include several Chinese dialects such as Cantonese and Mandarin, along with other international languages like Tamil, Hindi, Persian, Punjabi, Nepali, Urdu, Tagalog, and Italian. At minimum, the last census shows that up to 15% of the population are not Canadian citizens. With a population of over 301 000, Markham is growing in size at a rate of almost three times that of the rest of Canada.
Self-titled the "high-tech capital" of the country, Markham is home to over 900 life sciences or technology companies with IBM as the largest employer in the region. Additional multinational companies who locate their head offices in Markham include Honda Canada, American Express, Avaya, Toshiba, Hyundia, Honeywell, Advanced Micro Devices, Toyota Financial Services, Johnson & Johnson, Oracle, Apple Inc, and Motorola.
In you live in the Markham area and need expert immigration law services, you are in luck! Whether you are inquiring about Provincial Programs, citizenship, the Canadian Experience Class or need other immigration services, expert immigration lawyer Matthew Jeffery can answer all your questions. For more information, come visit us in office or contact us by phone at 866-886-8014.
Driving Instructions to Our Office:
1240 Bay Street, Suite 810
Toronto , Ontario
M5R 2A7 Canada
Head southwest toward Town Centre Blvd.
Turn left onto Town Centre Blvd
Take the first right onto Highway 7.
Merge onto ON-404 S to Toronto.
Exit ON-404 at Sheppard Ave.
Keep left at the fork, following signs for Sheppard Avenue.
Turn left onto Fairview Mall Drive following signs for Sheppard Avenue.
Take the first right onto Sheppard Ave. E.
Turn left onto Don Mills Road.
Stay to the right and use the ramp to merge onto the Don Valley Parkway S.
Exit at Bayview Avenue/Bloor Street.
Keep left at the fork to Drumsnab Road.
Continue onto Drumsnab Road.
Turn left onto Castle Frank Road.
Turn right onto Bloor St E.
Turn right onto Bellair St
Take the second right onto Cumberland St.
Destination will be on the right.
Public parking available nearby:
Municipal Parking:
Cumberland Yorkville Garage
37 Yorkville Ave
Toronto, ON M4W 2G8
Municipal Parking:
74 Yorkville Ave
Toronto, ON M5R 1B9
City Parking:
Cumberland Street
Toronto, ON M5R 1A8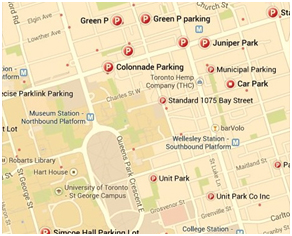 Back