Immigration Appeals Lawyer Richmond Hill
With a population of 185 000 people, Richmond Hill is a city on the rise. Well situated to take advantage of everything the city of Toronto has to offer, residents of the area are invited to consult Matthew Jeffery for all their immigration and citizenship inquiries.
Located in the York Region of the GTA, it is the third most populous area thanks to a recent upsurge in population in the 1990s and early 2000s. In fact, Richmond Hill experienced growth rates up to and sometimes more than double the national or provincial averages. Highly multicultural, many of the residents in this area are members of visible minorities with only 40% of them having learned English as their mother tongue. With a high West Asian population, it is a popular immigration destination, particularly for affluent immigrants.
Featuring many green spaces including parks, 544 hectares of undeveloped land, and a host of tennis courts, swimming pools, and golf courses, this municipality is a great place to raise a family.
With a cozy, small town feel and many local events, Richmond Hill is also home to many corporate headquarters including DMC Mining Services, Rogers Communications, Compugen Inc., Lexmark, Staples, Compuware, and BMW Canada. Employment opportunities include business, industry, healthcare, and finance jobs.
For immigrants seeking Work Permits, P.R. Cards, or information about citizenship and appeals, or any other immigration services, Matthew Jeffery's immigration law office is just a short drive away and we would like to welcome you to give us a call today at 866-886-8014.
Directions to our office:
1240 Bay Street, Suite 810
Toronto , Ontario
M5R 2A7 Canada
Head southwest toward Levandale Road
Turn right onto Levandale Road
Turn left onto Yonge St
Turn right onto Elgin Mills Rd E / York Regional Rd 49
Merge right onto ON-404 S toward Toronto
Continue onto the Don Valley Parkway S
Exit at Bayview Avenue / Bloor Street
Keep left at the fork to continue onto Drumsnab Rd
Turn left onto Castle Frank Rd
Turn right onto Bloor St E
Turn right onto Bellair St
Take the second right onto Cumberland St
Our office is on the right
Public parking available nearby:
Municipal Parking:
Cumberland Yorkville Garage
37 Yorkville Ave
Toronto, ON M4W 2G8
Municipal Parking:
74 Yorkville Ave
Toronto, ON M5R 1B9
City Parking:
Cumberland Street
Toronto, ON M5R 1A8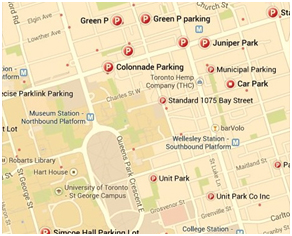 Back