Spousal sponsorship applications in Canada can be very complex. You need to prove that you are in a genuine relationship with your spouse in order for you to sponsor him/her to Canada. Proving a genuine relationship with someone is perhaps one of the hardest things to do when submitting this application. A personal statement, though not mandatory, can help you to show the immigration department that your application is genuine. Below are a few things that you may want to include in your personal statement:
If You Met Your Spouse Online:
– Provide the date when you first contacted each other, the website that you used and who started the conversation.
– Explain what attracted you to the person or the reasons that made you to notice him/her online. This can be their profile picture, an interesting profile or any other information that you can get from a dating website or social media page.
– Highlight your main mode of communication. How did you use to communicate (email, phone, Skype, instant message e.t.c)
– Talk about how often you used to speak after you first met. Did you use to communicate every day, once a week, ..?
– Provide details of when you decided to take the relationship to the next level and become an official couple. Give reasons why you chose to take this step.
– Provide more information on when you first met in person. Describe how it was when you got to see each other for the first time.
If Children Are Involved in the Spousal Sponsorship:
– Provide the names of the children, their dates of birth and citizenship details
– Write about stuff that you like to do as a family
– Explain how the child or children were introduced to your spouse and how well they get along
– You may also provide details on how the children feel about moving to Canada such as letters they have written discussing the move or drawings from the younger children.
For Arranged Marriages:
– Understand that this kind of relationships are not very common in Canada. For this reason, you have to prove to the immigration officer that the reasons why the marriage was arranged is genuine. For instance, you can explain why getting married is very important in your culture. Talk about some ceremonies that are popular in your culture in the event of an arranged marriage.
– Provide details of who helped to arrange the marriage and why. For instance, why did your family member think that you and your spouse would be a good match? You can even provide a reference letter that shows how the marriage was arranged.
– If you like, you can talk about the way the relationship has progressed. Talk about what you like and dislike in your spouse. Explain if you are happy about the decision to get into that union. Discuss what you have in common and why you think living with that person is good for you.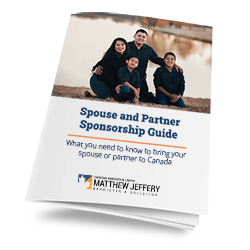 Download this free comprehensive guide to learn what you need to know to bring your spouse or partner to Canada.